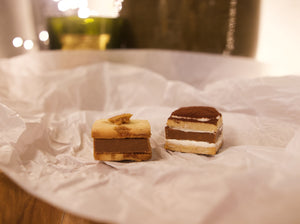 Twee overheerlijke en klassieke desserts maar dan in een vorm van Nama Cookies. Dit combinatie met nama chocolade is net zoet genoeg om je zoetekauw te stillen. 

Een doos bevat:
2x tiramisu nama koekjes
3x stroopwafel nama koekjes
LET OP:
Dit is een LIMITED EDITION pre-order product. We maken al onze Nama koekjes vers op maandag met de allerbeste ingrediënten. De Nama cookies gaan tussen dinsdag en vrijdag (1-3 november) mee met de pakketdienst. Je ontvangt de PostNL track & trace via de mail. Bestel je de Nama Cookies samen met een andere box? Dan versturen we alles samen in de week van 1 november in 1 pakket. De voorraad is beperkt doordat alle Nama Cookies handgemaakt zijn. Bestel tijdig om teleurstellingen te voorkomen. We sluiten onze pre-order wanneer we onze maximum capaciteit hebben bereikt. 
Het ophalen van de bestelling in Rotterdam is ook mogelijk. Plaats je bestelling via dm op instagram of neem contact op met ons info@divinemaiachocolates.com 
Divine Maia Chocolates Nama chocolade worden vers en ambachtelijk gemaakt. Wij gebruiken alleen de beste kwaliteit Valrhona en Callebaut couverture chocola.
Al onze Nama zijn halal. Ben je ergens allergisch voor? Neem dan een kijkje op de Allergenenkaart.


Bevat: 5 Nama Cookies
Formaat: 3,5 cm x 3,5 cm
Bewaartips: Na ontvangst 7 dagen houdbaar in een ziploc of tupperware op kamertemperatuur. 
Is het een cadeau en wil je een gratis Divine Maia Chocolates kaartje met tekst toevoegen aan jouw bestelling? Stuur ons jouw bestelnummer met tekst gelijk door via het contactformulier of mail ons info@divinemaiachocolates.com