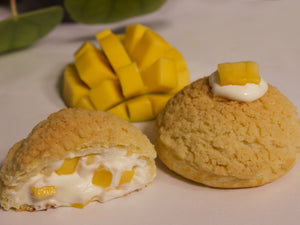 Soesje met een lekkere krokante zoete bovenlaagje en de binnenkant is gevuld met heerlijke verse mango stukjes met room.

Een doos bevat: 4x Mango Crispy Cream Puffs.
Alleen beschikbaar voor pick-up in Rotterdam. Plaats je bestelling via instagram dm of neem contact op met ons info@divinemaiachocolates.com. Ophalen kan binnen 1 of 2 werkdagen.