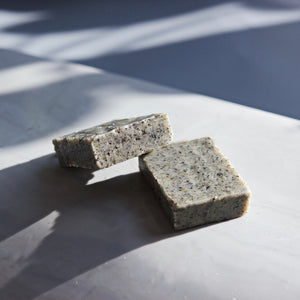 Black Sesame is eindelijk terug na 6 maanden! Deze limited edition viel bij jullie het meeste in de smaak en krijgt een vast plekje in ons assortiment. Zwarte sesam wordt vaak gebruikt in Aziatische desserts en is heerlijk in combinatie met chocola. Leuk om weg te geven of vier dit jaar de Maanfeest. 
Het ophalen van de bestelling in Rotterdam is ook mogelijk. Plaats je bestelling via dm op instagram of neem contact op met ons info@divinemaiachocolates.com 
Divine Maia Chocolates Nama chocolade worden vers en ambachtelijk gemaakt. Wij gebruiken alleen de beste kwaliteit Valrhona en Callebaut couverture chocola.
Ben je ergens allergisch voor? Neem dan een kijkje op de Allergenenkaart.

De ideale temperatuur om het te bewaren is 6 °C. Door de unieke textuur van Nama nemen de chocolades heel gemakkelijk geurtjes over in de koelkast. Dit kan je vermijden door de chocolades luchtdicht te bewaren. Na ontvangst zijn ze 2 weken houdbaar in de koelkast.

Bevat 20 stukjes
Gewicht: 240 gram
Formaat: 14 cm x 14 cm
Ingrediënten:
Cacaoboter, volle melk poeder, cacaomassa, suiker, emulgator (sojalecithine), natuurlijk vanille aroma, boter, zwart sesamzaad. 

De chocolades bevatten geen toegevoegde suiker.
Is het een cadeau en wil je een gratis Divine Maia Chocolates kaartje met tekst toevoegen aan jouw bestelling? Stuur ons jouw bestelnummer met tekst gelijk door via het contactformulier of mail ons info@divinemaiachocolates.com.
Om de kwaliteit van de Nama chocolades te waarborgen, versturen we geen chocolade op dagen wanneer de temperatuur hoger is dan 25 graden. Mocht je de chocolaatjes toch willen hebben op dezelfde dag, kijk voor meer informatie bij "verkooppunten".